Every year, as the warmth of mid-August envelops our surroundings, our cherished kiosk opens its doors, inviting all to partake in a quintessential Quebecois experience. It's a time-honored tradition where we proudly present the culmination of our labor – the new harvest – alongside an exquisite array of products that encapsulate the rich flavors and heritage of Quebec.
From the vibrant fruits of our labor to the savory delights that grace our shelves, our selection showcases the artisanal craftsmanship and natural abundance of our terroir. But that's not all. For the outdoor enthusiasts and hunters among us, we also offer an exclusive treat: the finest carrots and juiciest apples, carefully chosen as irresistible deer bait. Join us in mid-August to celebrate the harvest and immerse yourself in the heart and soul of Quebec.
💵 The accepted payment methods are debit and cash. Credit cards are not accepted.
Les heures d'ouverture:
From August 15th to October 31st 2023
Monday to Sunday : 9h to 18h
From November 1st to December 10th 2023
Monday to Sunday: 9h to 17h
⚠️ December 10th will be the last day of the year that we will remain open.
After an exhilarating day of apple picking, we invite you to pay a visit to our charming kiosk. Here, you can savor the fruits of your labor and our labor alike. Sample our freshly squeezed apple juice, a refreshing drink that captures the essence of our orchard's offerings. If you're in the mood for something more indulgent, indulge in our mouthwatering apple pies, a delectable treat that will have your taste buds dancing with delight.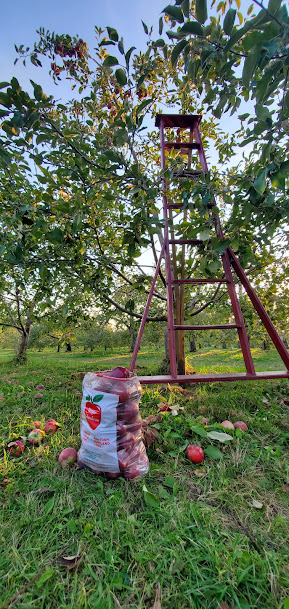 Virtual visit of the kiosk